Are you looking to get verified email addresses without the need to supply a phone number? If so, you may be wondering what your best options are. Fortunately, various services provide users with the ability to instantly verify their Email Without a Phone Number. With these services, all that is typically required is an email address and password to successfully receive a verified email account. The best part is that you don't even need to provide a phone number for sites like these to verify your Email Without a Phone Number.
Some Email services provide Email addresses without phone verification:
Mail.com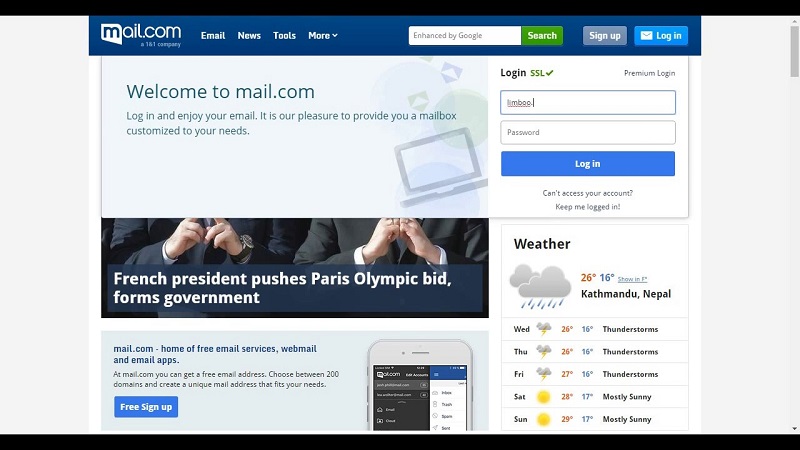 Mail.com is a popular email service that allows users to easily verify their email addresses without needing a phone number. Mail.com's verification process is simple and quick, making it an ideal solution for people who want to ensure that their email addresses are secure and valid. Verify Email with a Phone Number.
If you want to verify your email address without having to provide a phone number, there are a few simple steps that you can take. Simply enter the name, desired email address, password, and security question. That's it- your email address create.
But in a free account, you'll get 65 GB space and 30 MB file attachments only. The extra features they gave extra limits to sending emails, free online office suites, 2FA (2-factor authentication), and a free mobile app for ISO and Android both. Their servers are fast and quick, And their service is just fuss-free.
TUTANOTA
Email Tutanota is a free, secure email service that allows users to send and receive emails without having to rely on a phone number. To get started, sign up for Tutanota using your existing email address. Once you've registered, you can create a new account or import your existing contacts from Facebook, Gmail, LinkedIn, or Google+.
Tutanota provides free signup for everyone and gives 1 GB of storage space. The best part is that the tutanota is end-to-end encrypted with extra layers. No advertisement, fully secured, and easy to use.
The premium account is affordable and available only for 1 EURO per month.
GMX MAIL
GMX Mail is a popular email service that allows users to send and receive emails without a phone number. The service has a built-in verification system that allows users to instantly verify their email addresses. This system requires only an email address and the user's password. Once verified, the user can access their account settings and change their password.
GMX( Global Mail Exchange) is a Germany-based company since 1997. They don't have any storage limit, but have a 50 MB file attachment limit.
PROTONMAIL
The proliferation of smartphones and the ubiquity of cloud-based email have made it easy for anyone to create an email address. However, not all email addresses are legitimate. If you want to ensure that your messages are delivered, you can use a service like PROTONMAIL to instantly verify your email address. PROTONMAIL is a free service that allows you to send a verification request to up to 50 email addresses at once. Once a recipient receives your verification request, they can click on the link in the message and enter their verified email address into the website. This process ensures that your messages are delivered, regardless of whether or not the recipients have physical addresses.
PROTONMAIL is a Switzerland-based company that offers a free email account with 500 MB of storage and 150 mail per day. You can send encrypted emails to people with passwords.
MAILFENCE
The internet has made it easy for people to connect, but one downside is that it's difficult to verify email addresses. If you want to send someone an email and you don't have their phone number, you can use an existing email for verification.
The MailFence is the best option for you. MailFence has encryption, privacy, no ads, and no tracking. Just an existing email address is required to signup and be active.
YANDEX MAIL
This Mail is a convenient email service that allows users to send and receive emails without having to use a phone number. The service is available on both desktop and mobile platforms. And it offers a variety of features that make it a preferable option for emailing.
For example, Yandex Mail allows users to easily add recipients and customize their messages. And it also includes a spam filter that ensures that messages are not sent to inappropriate recipients.
Additionally, the service provides an archive feature that lets users keep track of past messages, and it also has a signature feature that allows users to create customized signatures for their emails.
If Yandex feels your account is "spammy", they will ask for your phone number for verification. I already have my spare Yandex account locked in this manner, and I am refusing to give them my number. You decide if Yandex is worth your time.
GUERRILLA MAIL
Guerrilla Mail is a new email verification service that allows users to verify email addresses without phone numbers. This service is perfect for people who want to protect their privacy or who want to avoid spam. The verification process is simple and takes only a few minutes. Once you have verified your email address, you can rest assured that your messages will be delivered safely and securely.
GUERRILLA MAIL is not a permanent mailing address. If you want some encrypted mail then go to GUERRILLA MAIL signup and send the mail. It just works for one time.